Please Note, I am completely Revising my workout program…   and will not be chronicling  my progress until I get it into place. The p90X has it's pluses but was not enough cardio fo rme and I had different needs to meet.  Will be posting on this soon.  Enjoy the 6 weeks, I have chronicled thus far.  Let's just say I am adding more cardio…. Bikram yoga, budokon, etc.
Reason to do it: get fit, get trim, and strengthen my core
Goal:  To complete at least 90 % of the workouts body willing.
Starting BMI: 23.2  (You didn't think I would tell you my weight?) Current BMI: 22.9 Week 6
Expectations: Preliminarily, I think it will be a challenging program but probably light on the cardio for my liking.  The yoga will be tough to get in during the week due to it being 90 minutes.  May have to alter the days on which yoga is done. And I may pine after my normal yoga dvd… which is more fluid.
Now listing with the most recent workout week first so you won't have to scroll too far…
Week 6
Review of Week 5:  As you can see, I missed three days with my daughter's hospitalization and having to stay in the hospital with her.  I wouldn't leave her!  But I was able to make up 2 of the 3 workouts by working out on the rest day and extending the week to 8 days.  I dropped the KenpoX as for me it is no longer a good workout.  And unfortunately, I was not able to add a new healthy recipe this week…2.5 lbs lost total and 2 inches lost: bust and hips.  Not exactly the place I wanted the loss but I will take it.  As you can see the weight is clinging to me as I add muscle mass (or so I tell myself this!)
Changes for Week 6: I am pretty certain that soon I will modify this program to make it more challenging for me.  Thinking of keeping the Core, Arms, Legs, and Ab workouts but substituting other workouts for Cardio, Kenpo and Yoga (I have already done 2 of the 3 by doing 45 min of elliptical and choosing Eoin Finn's Power Yoga instead of the Yoga X).  I am awaiting bikrams CD which talks you through his yoga routine.  This 90 min workout is like running 6-8 miles, fab!  Also awaiting a budokon DVD's one beginner and one for Strength and agility.  Considering the Turbo Fire DVD's sold on the beachbody.com website which sells the P90x system in place of cardio. As far as diet: just continuing to modify.  Need to focus on the evening snack, augh. I have never been one to snack at night (healthy or otherwise)> Always eat 3 meals 2 snacks  Somehow this has become a naughty habit.
Day 6 Friday April 22, 2011
Workout 45 min of Elliptical in place of Kenpo X
Notes: Just cannot get a good enough workout out of KenpoX
Day 5 Thursday April 21, 2011
Workout:  45 min of Elliptical Time 7 am
Notes:  Totally spaced that I was supposed to be doing legs, back and abs
Day 4 Wednesday April 20, 2011
Workout: Power Yoga with Eoin Finn Time: 6:00 am
Notes: Just need a bit more cardio…
Day 3 Tuesday April 19, 2011
Workout:  Chest Shoulders Triceps and Ab Ripper X Time: 6 am
Notes:  Still a pretty good workout.  Felt the definition of my triceps at the back of arm.  And my arms look more sculpted in the mirror.
Day 2 Monday April 18, 2011
Workout: Cardio X  Time: 5:45
Notes: Couldn't wait for the gym to open at 6 am to do the elliptical… augh,  The cardio X is a very modest workout in regard to intensity now.
Day 1 Sunday April 17, 2011
Workout:  Core Synergistics Time: 6 am
Notes: Great workout especially after yesterdays, abs and legs!
Week 5
Changes for the week: Continue substitution of cardio and yoga to make it more challenging.  Am thinking about cutting out dairy all week…
Day 8 Saturday April 16, 2011
Workout: Ab Ripper X and Chest and Legs Time: 1 Pm
Notes: Day 8 you may say, there are not 8 days in a week.  In order to play catch up and only miss one workout for the week, I decided to proceed with an 8th day before starting my 6th official week.  Now the start of my workout week will be on Sundays.  Really felt this in my glutes the following day!  Great workout today.
Day 7  Friday April 15, 2011
Workout: Yoga with Eoin Finn (not the P 90 X as it is not challenging enough. Time: 7 am
Notes:  Usually with yoga you can get a better and better workout as you work deeper into a pose but I am be plateauing to Eoin's workout
Day 6, Thursday April 14, 2011
Workout: None, Last and final day of  my daughter's Hospitalization
Day 5, Wednesday April 13, 2011
Workout: None: Day 2 of my daughter's Hospitalization
Day 4 Tuesday April 12, 2011
Workout: None!  My daughter was hospitalized for a few days stayed with her in the hospital.
Day 3 Monday April 11, 2011
Workout: Chest, Triceps & Shoulders + Ab Ripper X Time: 6:00 am
Notes: This is the first time for the above program, wow tough.  Definitely needed to do the following two push ups on my knees: One arm and Clapping push ups.  Finally a challenge!  I have actually lost 2 lbs total

Hope that I am in the Zone.  Out of soy yogurt and my wheat tortillas so I made a 1 egg, 2 eggwhite omlette and added 1/3 C soybeans (black beans would taste even better but wanted to get in a soy serving)  topped with a little salsa and 2 very small plums, yum!
Day 2, Sunday April 10, 2011
Workout:  45 min Elliptical Trainer Substituted for Cardio X Time: 6: 15 am
Notes: Feeling great!
Day 1 Saturday April 9, 2011
Workout: Core Synergistics Time: 6:45 am
Notes: Still the best workout of the bunch.
Week 4
Goal for the week: Continue to add one new recipe, as well as add my cardio and my power yoga in place of the P90X workouts.  Did not do so well with fully cutting out the 2nd latte last week…
Day 1 Saturday April 2, 2011
Workout: Core Synergistics Time: 2 pm + 35 min on the elliptical
Notes:  Really wanted to add some cardio.  didn't look at the schedule this week was supposed to start with yoga so will do tomorrow.  There is a rest day and a stretch day so it is a lighter week.
Day 2 Sunday April 3, 2011
Workout: Eoin Finn's Power Yoga (remember I am substituting) time 6:30 am
Notes:  I know why I also prefer this yoga, it is energizing and mentally cleansing.   Sorry the P90X yoga doesn't do it for me.
Day 3 Monday April 4, 2011
Workout: Kenpo X
Notes.  Put in a max effort.  Heart rate not above 120's… It is a fun workout but just not doing it for me without sounding like a cardio snob.  Will have to look at the beachbody.com website for tips.  Have already committed to changing the yoga and cardio X out for something more challenging.
Day 4 Tuesday April 5, 2011
Workout: Stretch X Time: 6 am
Notes:  No, no, no.  There is no way I am spending an hour stretching.  Come on, this is a complete waste of time.  I subbed in my own 20 minute stretch.  I am all about efficiency. I really dislike wasting time (it is too precious).
Day 5 Wednesday April 6, 2011
Workout:   My Cardio: 45 min on the Elliptical Trainer Time: 7 am
Notes:  My HR was in the 130's the whole time whereas during cardio X no matter that I worked at my max could not get my HR out of the 120's.  Felt like a much better workout for me.  Glad I made the substitution
Day 6: Thursday April 7, 2011
Workout: Power Yoga with Eoin Finn
Notes:  Again glad I made the substitution.  It is a much better work out for me.
Rating:  5 Stars for both my husband and I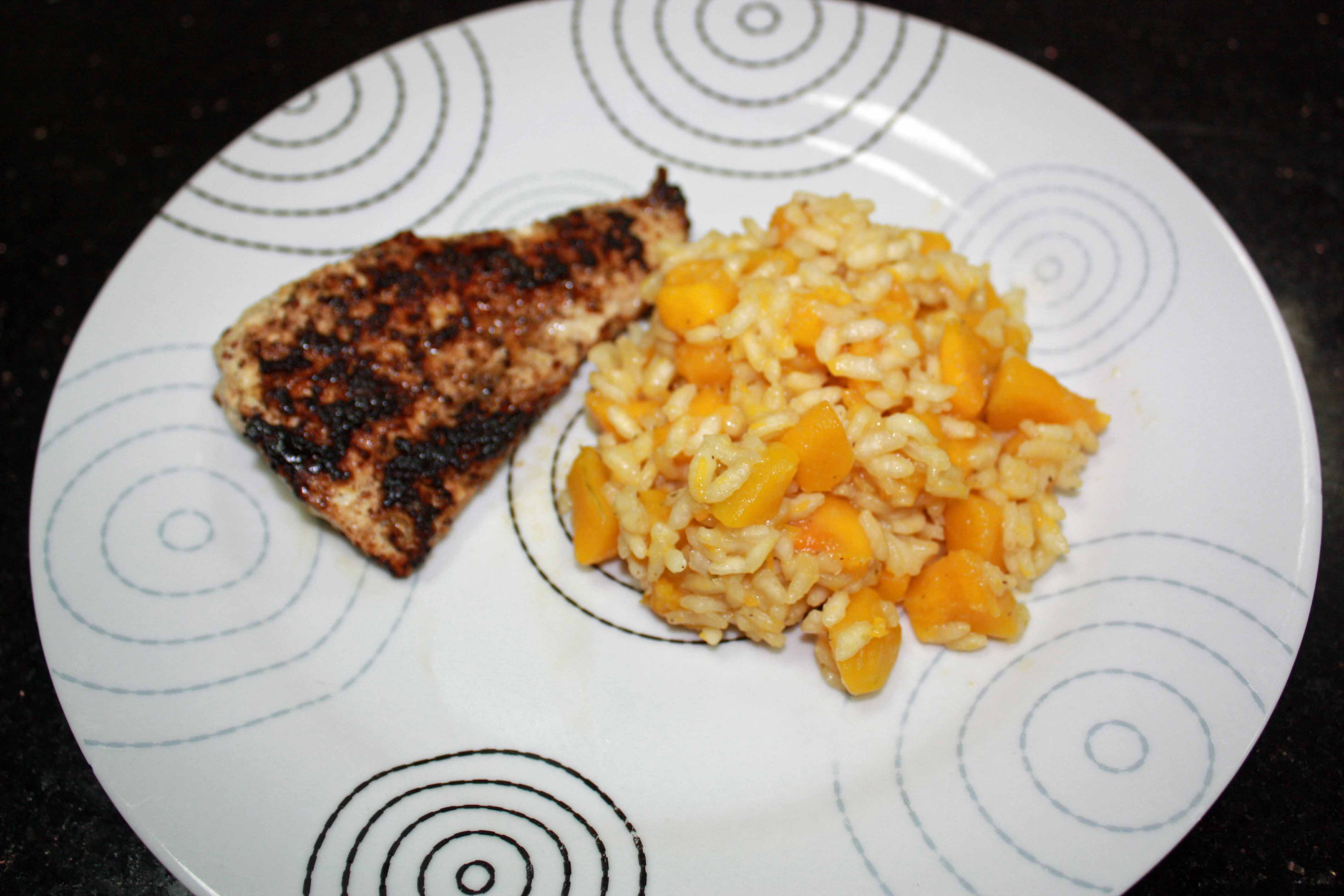 Notes:  I could not get sage… The sage would have really made the dish.  The serving size was posted as 1 1/2 cups… Seems kind of a large size for a side perhaps they meant as a main.  I paired it with pan seared sherry fish marinated in my special sauce: soy, fresh orange juice, a little dijon mustard (the grainy kind), a little olive oil, salt and pepper.
Day 7 Friday April 8, 2001
Workout: Rest day!
Review of Week 4:  It was nice to have a break with 2 rest days. Happy I am committed to substituting my cardio and my yoga for the P90X.  If I am going to work out, I might as well get the max benefit and while the first 3 weeks on the P90 program achieved this in regard to the above two workouts, I have plateaued and need more.  1 lb weight loss, finally in the losing zone.  Definitely leaner though so must be some muscle mass being added.  Will retake my measurements soon.
Week 3
Changes for the week: Am going to start cutting out that 2nd latte in the morning. I have been drinking the equivalent of one tall lowfat latter and one short soy latte per day (made at home).  And now that I am feeling better, I can start playing with the recipes.
Day 1 Saturday March 26, 2011
Workout: Core X 6:30 am
Notes: Worst workout ever.  Made it through 2/3 just plain tired and still on the mend from a virus.  Dinner party the night before was brutal with no food served til 9:30 pm! So chips and wine for 3 hours. Augh!  And Got home way too late.
Day 2 Sunday March 27, 2011
Workout: Cardio X
Notes: Actually got into this today and felt like I could work some of the exercises much harder.  Have you noticed this while working out?  I note it mainly with yoga when you can really get into a pose to work the muscles more.
Day 3 Monday March 28, 2011
Workout: augh, none.  Couddn't get it in.  Toddler awake three times in the night (has another cold) so I slept til 5:45 and missed the hour to workout.  I don't fee too badly as I am in the mode of wanting to work out.  So if able, will try and make it up on rest day
Day 4 Tuesday March 29, 2011
Workout: Arms & Shoulders and Ab Ripper X Time: 5:45 am
Notes:  Did 15-16 reps of all.  except upright rows stopped at 12 (prior tennis elbow achy).  Made it to 30 chair dips the first set and then added the extended leg for the second set.  Feel the burn.  Need to get a set of weights a little heavier and one slightly lighter. Currently at 2 kg weights. Tummy is feeling much firmer than 2 1/2 weeks ago!
Day 5 Wednesday March 30,2011
Workout:  Power Yoga With Eoin Finn Time: 5:30 am
Notes:  Yes, I did it, I substituted my favorite yoga for the P90X yoga.  I just couldn't to it anymore.  The P90 yoga is like forcing a ballet dancer to dance with her feet flexed instead of pointed.  With this Eoin's yoga it flows, you really use your breath, it is harder and bliss:)  I just couldn't justify doing something that bored me to tears and was like a sport version of yoga.
Day 6 Thursday March 31, 2011
Workout, Legs and Back
Notes: I have been doing 15 reps on all the workouts unless i noted otherwise or the exercise requires an even number of reps then 16.  It always takes me awhile to get going but then once I am going, it feels good.  Hamstrings a bit tight form yoga yesterday.  Did not get in the Ab workout.
Rating: 4 stars my husband, 4.25 stars me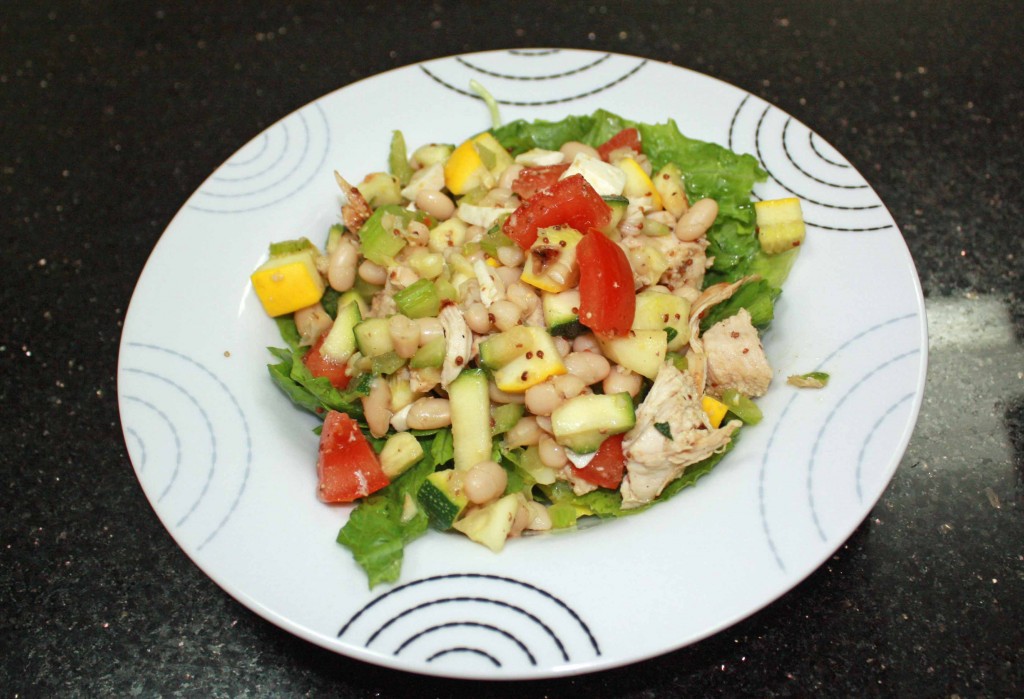 Notes:  Very delightful and light, substituted rocket leaves for the raddicio as none to found today. Put in fresh tomatoes instead of sun dried as none available.  No fresh basil either.  Grilled chicken which was marinated in Italian dressing, I don't like the taste of poached chicken breast,yuck. Would make it again and hope to have the sun dried tomatoes and basil (although with the rocket maybe the basil would clash)
Day 7 Friday April 1, 2011
Workout:  KenpoX (which I missed earlier in the week on Monday Time: 3pm & Ab Ripper X, got it in!
Notes:  I have definitely plateaued on this workout.  Just don't feel like it is doing much despite that I work at my max level and enjoy the boxing style….
Recipe:  Creamy Garlic Pasta with Shrimp and vegetables
Two new recipes in one week!
Rating: 4 stars my husband, 3 stars me, 0 stars the kids (eww yucky is what they said!)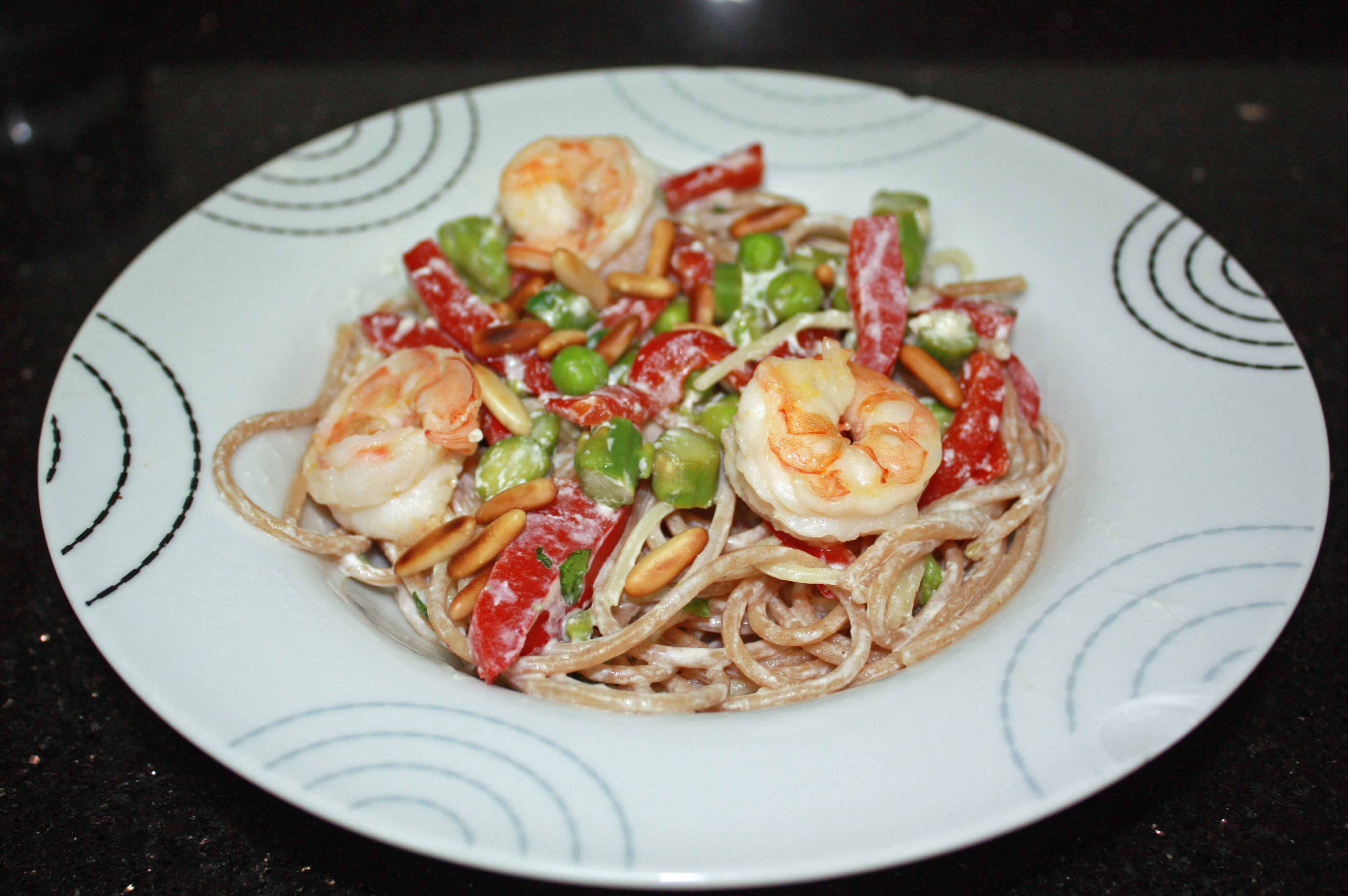 Notes on the Recipe:  Not even certain where to begin to fix the taste on this one.  Yogurt is not a good substitute to make a cream sauce… Won't make it again but having said this, we will eat if for dinner tomorrow as well.
Review of the Week: Feel like I have plateaued on some of the workouts: cardio and kenpo.  Without sounding like a workout snob, they are too easy for me.So am going to do my own cardio (on the elliptical)during cardio, and my own power yoga during the yoga.  What I am missing is the endorphins that are released during cardio, you know the runner's high.  Why do you think I ran for all these years?  A legal way to feel great.  Sure I have more energy and am more tone after 3 weeks but after getting back into shape am just needing a bit more.  Having said this, I do not feel the need to work out more than 60-90 min.  This amount of time is plenty.  No weight lost, but still feeling firmer will re-measure myself at the end of next week as I just did it a week ago.
Week 2
Goals for Week: Add dumbells newly purchased, add beans as source of protein, continue to cut back on dairy with 1-2 servings of soy per day.
Day 1 Saturday March 19, 2011

Workout: Core Synergistics Time 4:30 pm-5:30pm
Better workout with the dumbells added.  Did not do bonus round as still a bit under the weather.  Feel that the 10 minute warmup (I still did it) could be cut out or reduced.  Likewise the 5:12 cool down could be cut down.  Only move that was  difficult for me plank to chuttarunga run.  Could not get low enough with the chutarrunga so stayed in a plank run.
Day 2 Sunday March 20,2011
Workout: Cardio X Time: 6:15- 7 am
Notes: Again, I prefer a lot more cardio but it was a decent workout.  Full of snot, had to stop to blow nose and cough multiple times when inverted for the yoga portion.  Funny story:  My toddler awoke and strolled in with 15 minutes left to go.  She "joined" in on the exercises allowing me to finish.  Right before the cool down, I stopped to take a sip of water and she said said:  "Come on mama, KEEP GOING!"  So who needs a personal trainer when you have a toddler at home!
Day 3: Monday March 21, 2011
Workout: Shoulders & Arms Time: 6;15- 7, Ab Ripper X 7:45- 8 am
Notes:  Much better workout with weights. I did 15 reps of all when you had the choice using 2 kg dumbells which is the perfect weight for toning.  I skipped the warm up.  I am pretty certain I read that the newer studies have found that stretching before does not prevent injury.  And I still feel that the 1 hour is not maximized so I focused on the workout and cool down.  Did the bonus round as well

  The break in time was stopping to get the kids ready for school. Thankfully I don't drive them on Sundays and Mondays.  It was hard to get motivated this morning as I am sick with a bad head cold.  But all of you are helping me be accountable! Thanks!
Day 4 Tuesday March 22, 2011
Workout: Yoga X  Time: 5:30
Notes:  Still not fond of the style of yoga presented.  I skipped the push ups in between as this allowed it to flow better for me.   Have been tempted to substitute my favorite yoga DVD for this one but will perservere and try and stick to the whole program.
Day 5 Wednesday March 23, 2011
Workout: Legs & Back, Ab Ripper X  Start Time 5:45 am
Notes:  Did 15 reps at all instances unless an even number required.  Used 2 kg weights, good weight for me.  Had a cheat today. Ate a full cripsy kreme donut: chocolate with kreme frosting, yum, delicious. I never do this, augh.  At least I enjoyed it!  I bought them as a birthday treat for my son's class.  He turns 7 tomorrow
Day 6 Thursday March 24, 2011
Workout:  Took a rest day and will do Kenpo X tomorrow.  Run down by a second virus and day filled with birthday activities

Day 7 Friday March 25, 2011
Workout: KenpoX Time: 1:30 pm
Notes: Good workout.
Reveiw of Week 2:  The two concurrent viruses really kicked my butt!  Overall despite this, I felt like I had more energy by day.  My bits and pieces are feeling firmer despite no weight loss.  I just took measurements so I can track inches lost, fingers crossed.  For me it is about looking and feeling good and not the number on the scale.
WEEK 1

Day 1 Saturday March 12, 2011
Core Synergistics:  Time: 2-3 pm
Notes: Good overall work out.  Love being able to strengthen my core.  Glutes and hamstrings a bit sore
Day 2  Sunday March 13, 2011
Work out:  Cardio X Time: 6-7 am
Notes:  Definitely feeling it in my glutes and hamstrings.  Would have liked a little more cardio.  Completed the bonus round. Thankfully my toddler joined me for the last 10 minutes instead of disrupting my completion.  No way to predict when they will wake. Need to work on getting lower in the plank to chatarunga run.  My glutes and hamstrings very sore by the end of the day.
Day 3 Monday March 14, 2011
Work out: Shoulders and Arms Ab RipperX Time 5:45-6:45 am and 10:45- 11 Pm
Notes: Need to buy hand held weights.  The wrist weights are not enough. Completed the bonus round.  Made it through almost all of the abs.  Not quite there with the V-pull up combos.  The ab workout really worked the quads (very fatigued)
Day 4 Tuesday March 15, 2011
Workout: Yoga X Time: 5:30-7 am
Notes: Pretty good workout.  Will definitely have to move this one to saturday and do the core workout on tuesdays as 90 min is a bit long to get in during the week.  Thankfully made it through without the toddler waking.  Still prefer the yoga masters no disrespect for this gentleman.
Day 5 Wednesday March 16
Work out: Legs and Back Time 6 am Left Ab Ripper X til the evening and then developed a fever had to forego.
Notes:  Very interesting that up until now he did not have us use anything out of the ordinary. I don't have a chin up bar hanging from my ceiling… I used weights instead.  Not sure if as effective.  Feel he could condense the almost 60 minutes of most workouts and make them as effective.  Legs burned with the single leg wall squats but did well.  My legs are my strong point. Disappointed I didn't get in the Ab Ripper portion (16 min).  But, it is not wise to work out with a fever
Day 6 Thursday March 17, 2001 Happy St Patrick's Day!
Workout: Kenpo X Time; 6:15 pm-7:15 pm
Notes: Felt lousy all day on and off. took it easy due to this minor illness and b/c my daughter out of excitement decided to drive her head into my pubic bone yesterday while at music class, ouch.  This is a former injury made worse… Did the jumping jacks modified.  Despite feeling lousy, this is my favorite workout next to Core Synergistics so made it easy.  1 week down.  Only missed the Abs yesterday as was sick with fever.
Day 7 Friday March 18, 2011
Rest day! Yeah!  Sick as a dog so that is a good thing
Review Week 1
Overall worry that each individual workout is on the light side, that the workouts could be more efficient (i.e. done in 40-45 minutes instead of 60) and that the yoga will get to me as I simply do not enjoy the sports type yoga in this program… I prefer power yoga that flows.  Purchased small dumbells so shall see if this add a bit more to the program.
No wt loss but energy up and feeling more tone.