My travel experiences have always been like a Seinfeld episode, the widely popular comedy sitcom from the 90's.  The episode that always comes to mind is the one entitled "Soup Nazi".  "No soup for you!"  Yes, bizarre things happen to me when I travel. I could fill a book with my experiences.
I can recall a United airlines flight that I was almost kicked off of in 1998.  I am still thoroughly embarrassed by this but let's suffice it to say it was all about an airline attendant having a bad day.  When the pilot came back (yes, the pilot), he shook his head at the attendant (thankfully in agreement with me) had me resume my seat and returned to the front to fly the plane.  Yet, I still travel!
Recently I flew from Qatar to the USA via Washington D.C.  I had heard about the total body scanners being installed as a result of a Nigerian passenger flying from Amsterdam to Detroit who had sewn explosives to his underwear in an attempt to blow up the plane.  And, I had read a smidge about the controversy:  the radiation and the invasion of privacy.  As a fan of just in time information, unfortunately, I had not read a lot.
This was my third trip to the USA in 6 months and until now; I had not even seen a total body scanner.  Leaving D.C., I was "selected for a full body scan".  As I had not read enough about the safety, I opted out for an "enhanced pat down".  I did not know what I was in for.  The security guard smirked when I opted out; I should have known that I was in for something "special".
The Transportation Security Administration (TSA) female agent who did the pat down was very professional.  She gave me the option to have the pat down "in private".  Next time, I would pick this.  She described everything she was going to do to me just like I describe how I am going to perform a pap smear on a patient for their first time.  She was true to her word and pat she did!  She said she was going to outline my breasts with the side of her hand and she did.  Not so bad.  She said that she was going to pat down my bum. This was not so bad either.  And then she said she was going to pat all the way up to my inner thighs.  After she completed the pat down, I felt like a "one night stand".  At least she could have taken me out to dinner beforehand.  Seriously this was nothing short of a public molestation.
The other option would have been to undergo the total body scan.  The scanner produces a naked 3D black and white image that resembles a film negative.  The images are not supposed to be stored but images have been leaked on the internet
As a woman, one of the first things I would want to know is can the scanners visualize a tampon?  For more fun on traveling with tampons read my good friend Kirsty's hilarious blog.  OMG, I think I would die of embarrassment if someone behind the scanner could see my tampon. Yes, I am a doctor but I keep my womanly stuff to myself.  Rest assured, the scanners can only see through to the skin not into body cavities.  Although, some feminist groups will have you believe otherwise. Sanitary pads are visualized however.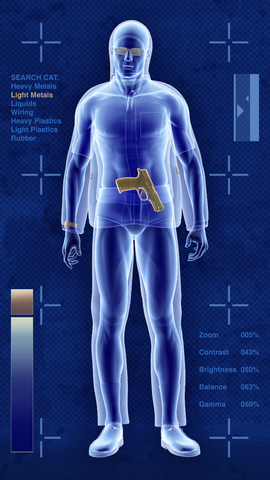 I have inserted some photos so you can see what "they" see.  Please note how fat rolls and butt cheeks are nicely outlined.  Buns and Abs of Steel workouts are in order before we all fly the next time.  The scanners can also detect breast implants, colostomy bags and body piercings that you may not want anyone to know about.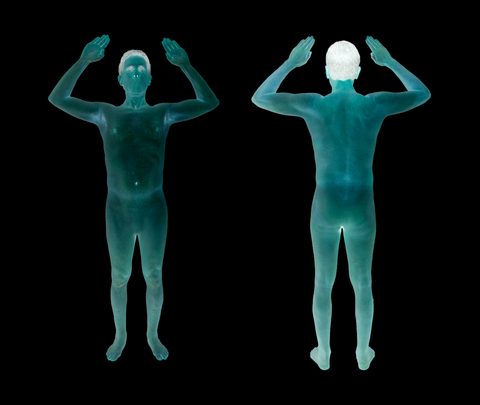 Now, onto the safety.  There are two types of scanners.  One uses extremely high frequency radio waves to produce images and produces no ionizing radiation.  The other uses a technology known as "backscatter", which does produce ionizing radiation.  According to the TSA, with the later scan, you will be exposed to as much radiation as you would during two minutes of your flight
One scan with the backscatter scanner and you are probably fine.  It is the cumulative scans that worry me.  It was said best by Dr Michael Love from John Hopkins who said "They say that the risk is minimal.  But statistically, someone is going to get skin cancer from these x-rays.
I missed out on "Opt-Out Day" which was scheduled for November 24, 2010, the day before Thanksgiving and the busiest travel day in the USA. I can only imagine the chaos this would have caused in regard to delays.
Then there are those who question is the Total body Scanner even necessary. If you are a true terrorist you will find other ways to smuggle items.  And as the body scanners cannot identify body cavities, the items will only be hidden in these cavities… I know eeewww!
So what would I do next time?  I think I would opt for a private pat down as there is no real good choice just the lesser of two evils.
Have you had any similar humiliating experiences?  Love to hear your stories!